With which subscription will you rent out your holiday home?
Rent a Holiday Home offers five different subscriptions to rent out your holiday home:
you register for free and non-binding
after registration you will receive an email with your personal login information
with your login, you can instantly create your ad and put online
you determine which subscription with the functionalities suits best to your needs
Immediately after registration you will be able to receive information and booking enquires via telephone, e-mail, contact form or booking calendar. You can then contact the client yourself and confirm the booking without having to go through Rent a Holiday Home.
Depending on the chosen subscription functionalities you pay an annual subscription fee. Each subscription can be canceled monthly after one year and you can switch subscription at any time.
Take advantage of our introductory discount!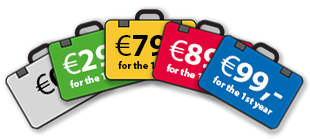 Do you rent for the first time at Rent a Holiday Home? Benefit the first year from of the attractive subscription offers which can add up to € 140,-!
Rent out several holiday homes?
For every 2nd and 3rd paid subscription you receive a discount of respectively 25% or 50%. Renting out more homes? See here for our full price list. Please contact us if you want to offer a XML feed or to sign up for a partnership.
Interest in starting a franchise?
Would you like the exploit the concept of Rent a Holiday Home operating under your own name, please contact us to sign-up as a franchisee. We have an attractive starter kit to help you get you up-and-running.
Do you have any questions?
Please contact us directly.